Samsung S8 and its winning features
Samsung is proud to announce it's latest flagship units, the Galaxy S8 and Galaxy S8+ with its winning features.
Infinity Display
Just like it's competitors, Samsung goes all screen for its latest flagship. The Galaxy S8 has a greatly enlarged 5.8-inch Super AMOLED display, compared to the 5.1-inch display of Galaxy S7, while the Galaxy S8 Plus has a huge 6.2-inch display versus the 5.5-inch display of Galaxy S7 Edge.
Both phones have a new ultra-wide 18.5:9 aspect ratios with 2960 x 1440 native resolutions or WQHD+. The curvature of Galaxy Note 7's display is present on both devices thus making the two "edge" design still intact and present on the two devices.
Despite the increase in display size, the phone's overall dimensions are almost the same as that of its predecessors. The Galaxy S8 and Galaxy S8+ are a bit taller because of the new aspect ratio so there might be just slight changes in the feels of the phone in your palms.
Exynos 8895 / Snapdragon 835
Both the Galaxy S8 and Galaxy S8+ are powered by Samsung's homebaked Exynos 8895 chipset globally with the exception of select markets like the US which will have Qualcomm's most powerful chipset to date — Snapdragon 835.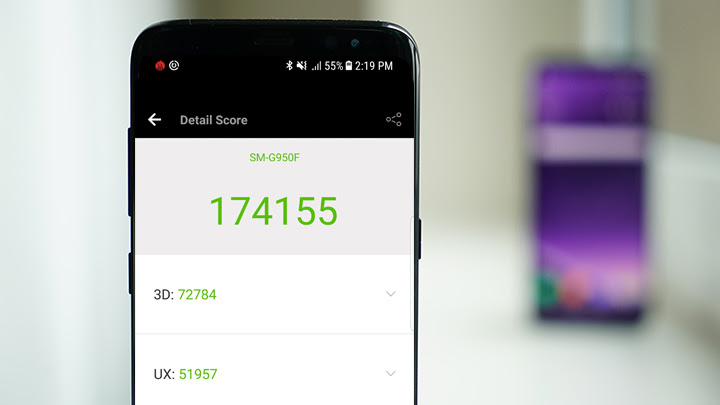 Performance-wise, chipsets from both devices perform well on benchmark tests and real life performance. Both are 10nm chips for high efficiency. Exynos 8895 even features Samsung's first in-house Exynos M1 architecture.
Dual Pixel Camera
There's not much features has changed or added here. It still has the same rear sensor and lens from the Galaxy S7 which was then inherited by the Galaxy Note 7. It's a 12-megapixel Dual Pixel focus camera with a f/1.7 aperture and optical image stabilization.
The selfie camera is somehow updated. It's now bumped to 8-megapixel complete with f/1.7 aperture and even autofocus for sharper and bokehlicious selfies. This feature is what I personally want for my blogs and vlogs tho.
Fast Wireless Samsung
Most modern phones feature fast charging through the USB port. The Galaxy S8, with its USB-C port, features adaptive fast charging but it's also capable of fuelling up juice wirelessly.
With Samsung's wireless charging dock which is also available from it's predecessors, users can simply place the phone on it and let phone fill up power to last you a full day. Other wireless charging docks are also compatible but it might miss on the fast charging.
Iris Scanner
First seen on the Galaxy Note 7, the iris scanner makes a comeback with the Galaxy S8 and Galaxy S8+. We find the iris scanner to be a crucial feature for the S8 since the fingerprint scanner is now located on the rear which can be hard to reach at times due to its unusual rear position. I even consider this as a good advancement in terms of mobile security.
Users can set the iris scanner for the lock screen and other encrypted folders on the phone. Iris scanning is also more secure than fingerprints.
IP68 Water and Dust Resistance
From it's predeccessor, which is the Galaxy S7 edge, Samsung continues to bring IP68 certification with the Galaxy S8 and Galaxy S8+ which is good for me as well since I love to be underwater and taking underwater shots are my thing.
Like before, there are still no unwanted flaps covering the ports making the phone a water and dust resistant while keeping a low profile.
Bixby Personal Assistant
It isn't just another Siri, Cortana, or Google Assistant that mainly functions for web search and some basic tasks. Samsung designed Bixby to function on top of an application and can support what the application is capable of performing.
Bixby is built into the Galaxy S8 and Galaxy S8+. There's even a Bixby button to call it out anytime you need it. Soon, Samsung will also implement it on other smart appliances to be part of the IoT future.
Samsung Dex
This is Samsung's version of Windows Continuum called the Samsung Dex. This feature is not native on the phone as it requires a dedicated dock wherein the Galaxy S8 or Galaxy S8+ will sit. You then connect it to a monitor and peripherals like a keyboard and mouse to create a desktop environment which is one great step ahead from its competitors.
Basically, as how the Windows Continuum works, it transforms the Samsung UI to a desktop-mode experience. All your apps and files will be available for access on the desktop interface.
To summarize, Samsung actually did its best in taking back consumer's trust by providing new smartphone features and innovating the existing ones. Samsung is also trying to cope up with the loss they had with the controversial Samsung Galaxy Note 7.
(Source: YugaTech)
(Disclaimer: The photos are not owned and/or any way associated with Guy On Tech unless otherwise stated. All the credits goes directly to the original owners of the photo.)